All sessions will be available to view online by delegates following the event.
Some key takeaways from today's speakers included: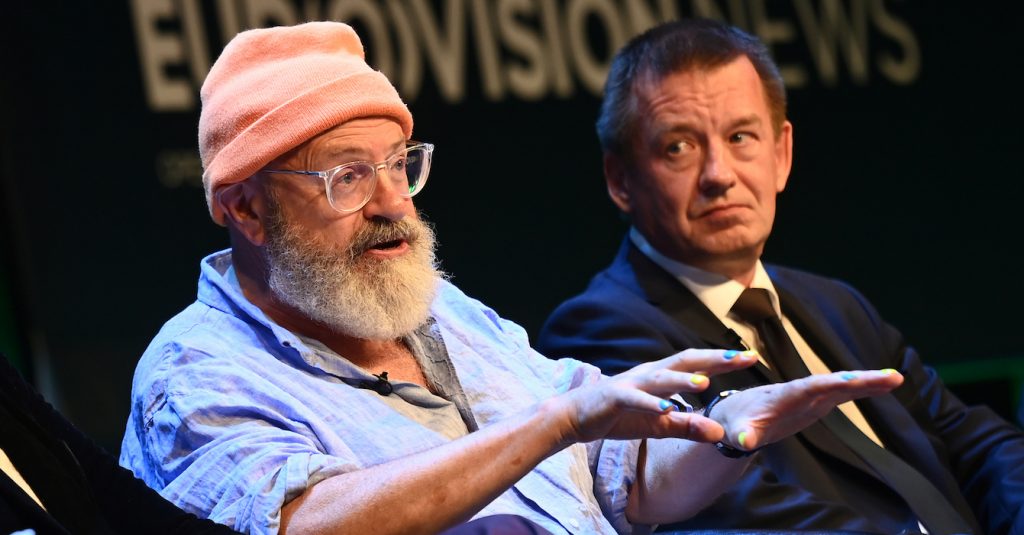 John Sweeney: "No place for impartiality" in coverage of Russia's war on Ukraine'
Coverage of Russia's ongoing war on Ukraine shouldn't aim to be impartial and the US right-wing poses a bigger threat to Ukrainians' safety than the Russian army, veteran war reporter John Sweeney told news leaders in Dublin today.
"The idea that one should be impartial against a killing machine that commits war crime after war crime is a dark fairy story," Sweeney said during a panel discussing how the war in Ukraine should be covered at News Xchange in Dublin today.
Sweeney also blasted the likes of Tucker Carlson and Fox News for their coverage of the war in Ukraine while criticising the Irish government for its position of miliary neutrality.
"We have got to stand up to people like Tucker Carlson who tell outrageous lies. He is doing serious damage to Ukraine. Ukraine's most terrifying enemy at the moment is not on the battlefield, it's Fox News and Trump's Republicans, the MAGA people," Sweeney said.
The former BBC journalist's comments came after Angelina Kariakina, head of news at UA:PBC, said she and her fellow Ukrainians had been disappointed by the media coverage in the West of the recent Kakhovka dam collapse that failed to pin the blame for the explosion on Russia.
Kariakina said she had no doubt that Russia was responsible for the destruction of the dam, which has been under Russian control since the early days of its invasion in 2022 and resulted in catastrophic floods in Ukraine. Much of the immediate coverage of the incident stopped short of blaming Russian forces, though the likes of The New York Times have since reported that the evidence suggests Russia was responsible for the explosion.
Kariakina called for newsrooms to rethink the language they use to describe the war to ensure it leaves no room for ambiguity, as positions of neutrality risk warping the public's view of the invasion. UA:PBC has been reaching out to Latin American correspondents to challenge pro-Russian propaganda in the region, Kariakina added.
"Global newsrooms, it's too easy to put the title 'Ukraine conflict'. It's not a conflict between some people who love Russia and who hate Russia and love the West. It's an illegal invasion of a foreign country. The wording matters."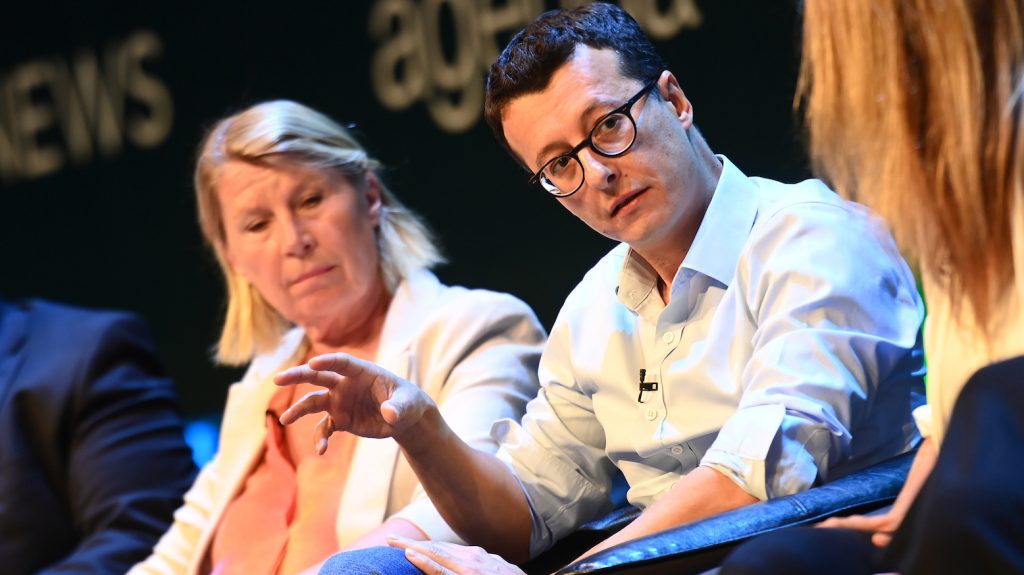 Foreign correspondents under threat
News organisations must address the decline of foreign correspondents around the world to ensure the major stories are reported truthfully and fully and to counter authoritarian regimes and disinformation via social media.
This was the stark warning today from Mehdi Lebouachera, editor-in-chief at AFP, Asia-Pacific Region, speaking on a panel titled Global View: News leaders define the key issues facing the industry.
Lebouachera said: "Something that has been worrying me for the last decade is how much our footprint in the world has diminished. To cover major stories you need foreign correspondents in the countries. That has reduced dramatically in the past 20 years."
Pointing to global issue of migration, Lebouachera said: "I had friends working for public sector news organisations in the middle east. We had people living in the region. That has dramatically diminished. That is why we don't cover the beginning of a migration crisis and only when the boat sinks.
"You need to be working in country, have relationships in those countries and they need to trust you. Once you pull out it takes a long time to build that up again."
A lack of presence on the ground also means that journalism in authoritarian regimes is prevented from flourishing and in its place disinformation and misinformation can become rife via social media.
"As foreign journalists we act as a shield for local journalists. Our presence means we hire local journalists and we train them. That has a ripple effect. Otherwise, we get taken over by social media and misinformation," he warned.
Marina Sapia, International Desk Chief at RAI Tg1, spoke about the stories that are being 'lost' through the problem of news avoidance on stories of conflict.
Citing the growing evidence that people are switching off the war in Ukraine, Sapia voiced concern over the other stories of conflict that are likely to disappear over the next 12 months.
"Most of these conflicts are far from Ukraine, such as Africa," she said. "There have been two massacres recently in Africa. One in Uganda, where 40 pupils were killed and there was almost nothing on European media."
On migration Sapia noted that these days this is as much a story "of backward routes" as it is of the destinations they have been unable to reach. "In Mauritania in North East Africa, young people are simply roaming around the country."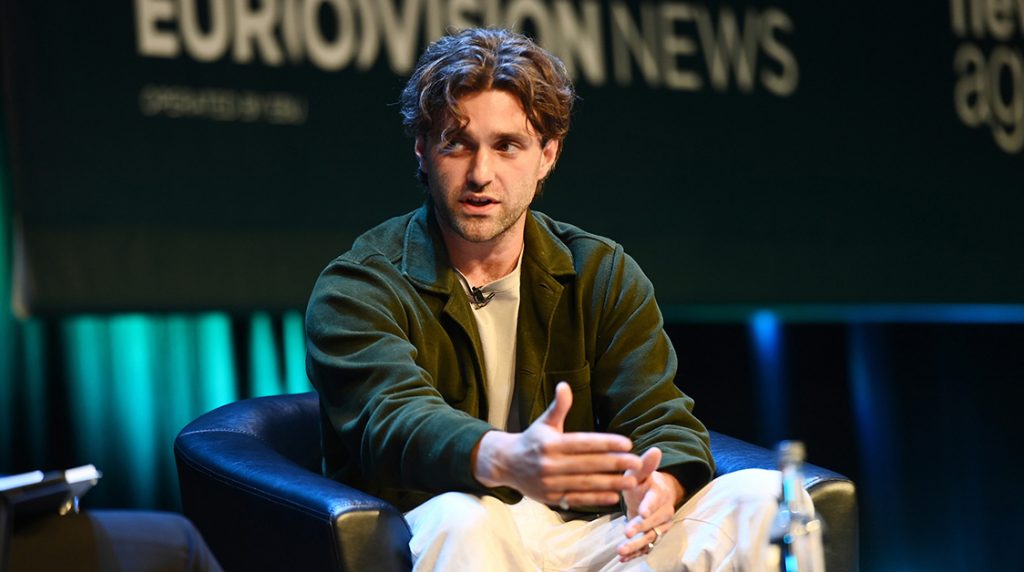 Shea bolts for Bucharest following News Xchange session as Tate charged
Documentary maker Matt Shea had to rush off to Bucharest immediately after speaking at News Xchange in Dublin on Monday as the subject of his recent Vice News film, The Dangerous Rise of Andrew Tate, was charged today.
Kickboxer-turned-influencer Tate, whose misogynist videos have made him the most Googled man in the world, was indicted this morning in Romania for human trafficking, rape, and forming an organised crime group to sexually exploit women.
Shea's documentary saw the journalist gain access to Tate and his inner circle at his compound in Bucharest and end up in an initiation cage fight in a bid to uncover the machinery and motivations behind the social media phenomenon.
Shea said he was growing increasingly concerned about the unchecked claims made online by an "ecosystem of pseudo-intellectual masculine influencers", also citing controversial commentator Joe Rogan, and asked how films such as his own can stand out.
"The documentary took years to make and there were lots of things we couldn't prove so couldn't put in. We are bound by our legal departments, which is a good thing. We can't just say whatever we want. We put out a video and it gets viewed by a million people.
"Joe Rogan can say whatever he wants, and it gets viewed by 300 million people. How do we compete with that ecosystem of misinformation and unchecked content?"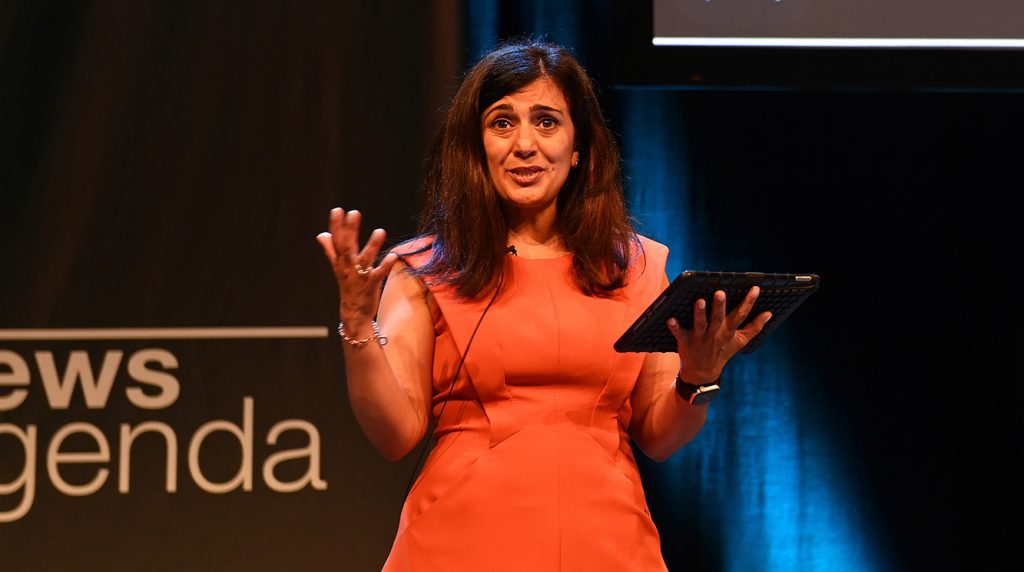 BBC launches Journalism Climate Commitment at News Xchange
The BBC launched a Journalism Climate Commitment in a bid to ensure it provides the 'whole story of climate change' to its audiences.
The climate change pledge, which was announced at the News Xchange conference in Dublin today by the BBC's Nisha Kapur, commits BBC journalists to provide impartial information and 'hold power to account'. It is designed to "inspire change through its stories and finally look at the wider impact of environmental issues throughout their news and current affairs coverage."
As part of the commitment, the BBC said it will provide appropriate ongoing science-based training to our journalists and 'agree to share appropriate knowledge and information across its organisations.'
Kapur said it was inviting other public service broadcasters who are members of the European Broadcasting Union (EBU) to join in the commitment and that in future it hopes other news organisations around the world will sign up to it.
Climate change has been one of the major topics of discussion this week at News Xchange, the annual news leaders conference run by C21 Media's News Agenda on behalf of the EBU. Yesterday, Wolfgang Blau, an expert on climate communication who is co-founder Oxford Climate Journalism Network and managing partner of the Brunswick Group's global climate hub, said that without proper training and embedding climate change impacts in all their news coverage, news rooms are at risk of 'accidental greenwashing".
The four commitments that make up the BBC's Journalism Climate Commitment are:
To provide impartial information, explanation and facts regarding environmental issues
To ensure accountability by exploring and investigate societal, business and political commitments and holding power to account against pledges to act on climate change
To inspire action on climate change at government, organisational and individual level by sharing potential solutions, practical insights and relatable stories of change
To look beyond the story by connecting and clarify the wider impact of environmental issues and sustainability throughout its journalism.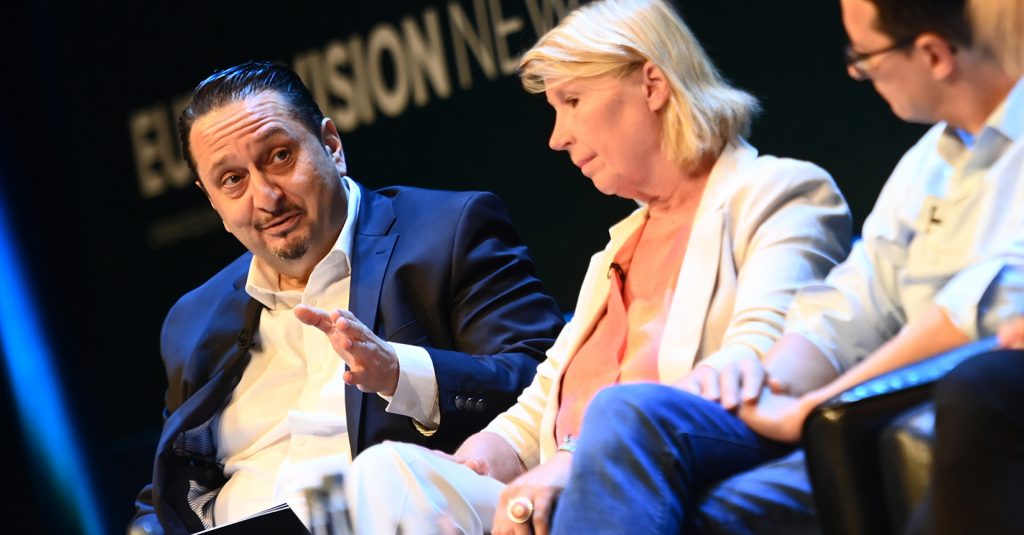 Double standards of war reporting in Western media says Bouran
The western news media employs "double standards" in its reporting of global issues, according to Nart Bouran, chief executive officer at International Media Investments and Sky News Arabia.
Global crisis such wars, migration and climate change are not being fairly reported by western news organisations, Bouran told an audience of news leaders gathering at News Xchange, the annual news business conference, being held in Dublin this week.
Providing the Middle Eastern perspective on the panel entitled 'Global View: News leaders define the key issues facing the industry' Bouran said the conflict in Ukraine was viewed more sceptically by Middle Eastern news outlets than their Western counterparts because of perceived racial undertones by western news reporting between it and other conflicts around the world.
"There is scepticism, but it doesn't mean that there is not sadness about what is going on in Ukraine," he said. But added: "When reporters say unintentionally 'we've never seen anything like this before', so now we pay attention to it then there's racial elements to it.
"We've been here before, there's a measure of double standards."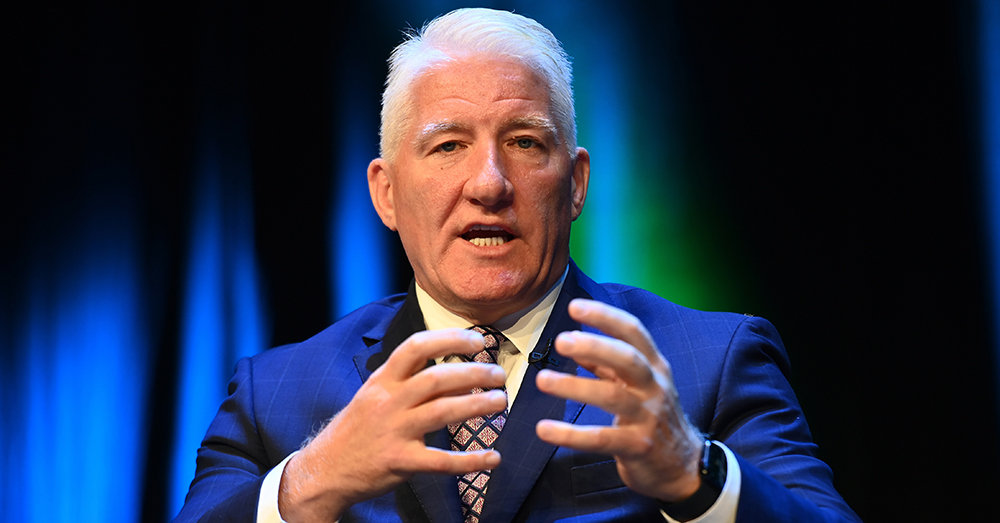 CNN's King worried about tsunami of misinformation coming in 2024
CNN anchor and chief national correspondent John King is "very worried" about the "tsunami of misinformation" that will accompany next year's US presidential election and has urged news organisations to shore up trust among their audiences.
Speaking to RTÉ journalist Áine Lawlor at the News Xchange conference today, King said state actors from Russia, China and other nefarious groups are priming a wave of misinformation to confuse and mislead US voters between now and November 5, 2024.
"I'm very worried. There's going to be a tsunami of this misinformation, whether it's AI generated or just traditional misinformation from within," said King.
"What do we do in that situation? Your brand is critical. How far out is your next election? Make your brand better and stronger. I want Trump voters to say, 'well maybe I should listen to this guy.' Europe will be way ahead of the US in the regulation of AI."
Elsewhere, King defended the cable news network's recent controversial Republican Presidential Town Hall with Donald Trump while admitting it "probably" covers the former president "too much."
CNN came under fire last month after the broadcast saw Trump repeat lies about the 2020 election being stolen; abuse E Jean Carroll, the writer against whom he has been found liable for sexual assault and defamation; and insult CNN anchor Kaitlan Collins.
But King told delegates CNN cannot ignore the fact Trump is currently the front-runner for the 2024 Republican White House nomination ahead of the election.
"What is our job? Is it to only cover the honest people? He is the leading candidate for the Republican nomination by far. It is not our job to ignore him. Did we learn lessons from it? Of course we did. But it's not our job to take sides. I trust people's common sense. For the people who say we cover him too much? Probably true. But the man is a global phenomenon. You spend more time on the fascinating stories."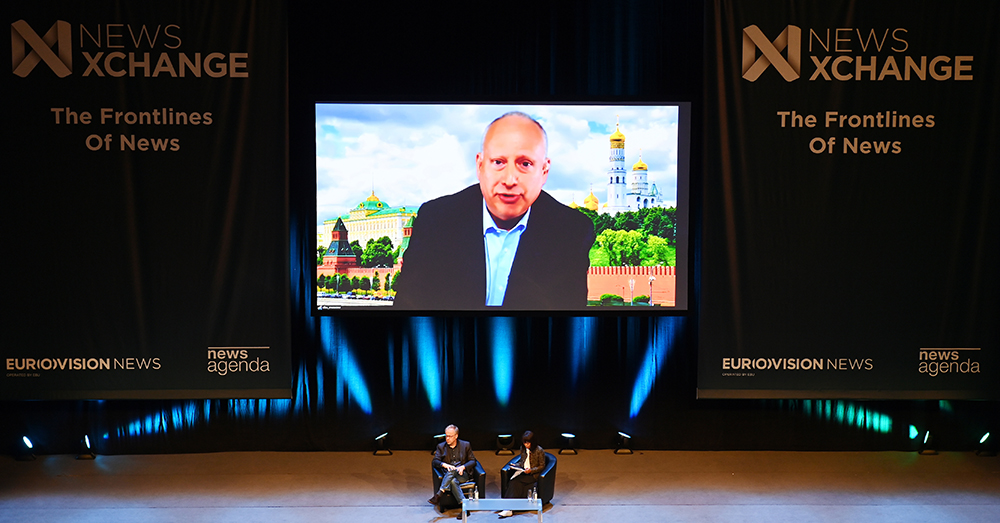 BBC News Russia editor Steve Rosenberg has said the country he has reported from and come to love over three decades disappeared overnight when Vladimir Putin invaded Ukraine on 24 February 2022.
"It's as if a huge black cloud came over this country and all the wonderful people that I met over these years, and all the wonderful places I've been, have been completely overshadowed by that decision," Rosenberg told News Xchange in Dublin via video link from Moscow today.
"One reason to be here – as long as that's possible – is to try to get a feeling for what Russians are thinking, what public opinion is, is it changing and why this country has gone down the very dark path that it has," he said, speaking with ITV News London senior correspondent Ronke Phillips.
Rosenberg is one of diminishing number of overseas correspondents remaining in the country and described the arrest of Wall Street Journal reporter Evan Gershkovich on March 29 this year on espionage charges as a "watershed" moment. The idea that accredited Western journalists with valid visas were afforded a level of protection in Russia "went out of the window" at that point, he added.
"Certainly, the last year and a half has tested to the extreme my love for this country," Rosenberg continued.
"What President Putin did on the 24th of February last year has made this country almost unrecognisable to me. I'm still trying to work out for myself how this could have happened and whether the Russia that I learned to love all these years has gone forever, whether it will come back, what kind of a new Russia are we're going to see. What will Russia be after this is all over?"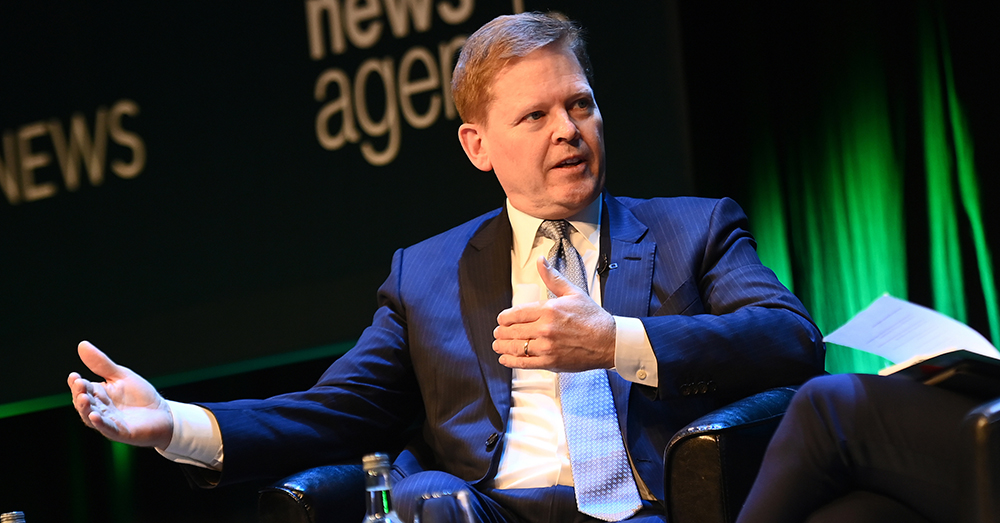 Paul Bascobert, president of Reuters, the global news and information provider, today called for caution in the rush to regulate AI, but admitted that some form of regulation of the technology was probably necessary.

Speaking on the role of authoritative news-gathering at the News Xchange conference in Dublin, Bascobert, who took over as president of Reuters a year ago, said: "There's probably some role for legislation of AI, but if you overact, it's harder to deregulate something that's been regulated."
Earlier this month, the European Union passed landmark Artificial Intelligence Regulation.
Bascobert, said: "We should be careful before we rush in. It's a complicated issue.
Thomson Reuters has pledged to invest $100million to develop AI and is already using Generative AI for some tasks, including some financial news gathering and translating.
Bascobert said that he did have concerns about AI, but not from within the media space.
"Some people worry about whether Microsoft and Google will be good caretakers of AI. But I don't worry about that. People who have nothing to lose in this space are people we should be far more worried about," he said.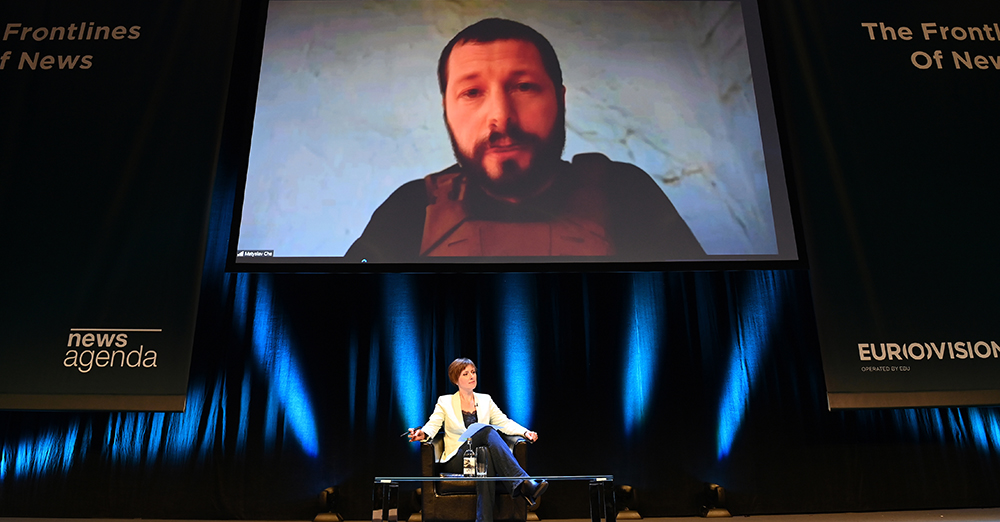 Leading Ukranian journalist urges newsrooms not to forget the war as it nears its 500th day.
Award-winning Ukrainian video journalist Mstyslav Chernov has urged national newsrooms around the world not to forget the Ukrainian people as the war with Russia nears its 500th day.
Chernov, who dialled in to the News Xchange conference in Dublin from a remote village in Ukraine today and spoke to delegates wearing a flak jacket, said Ukrainian people are "afraid of being forgotten" should newsrooms decide to shift focus onto other stories while the war continues.
Russia's full-scale invasion of Ukraine will enter its 500th day next month and Chernov, who joined The Associated Press in 2014, has been documenting the war throughout, with his film 20 Days in Mariupol showing the horrors that followed Russia's siege on the eastern port city.
Interviewed by journalist and presenter Annelies Beck, Chernov told delegates at News Xchange: "As an international journalist my ear is to the ground and the concern I hear most from Ukrainians right now is they are afraid to be forgotten.
"Ukrainians know very clearly that as soon as Ukraine disappears from the news, the whole world will think the war has gone. We as journalists know that is not the case. Ukrainians, like all nations fighting an enemy much bigger than them are afraid of being forgotten."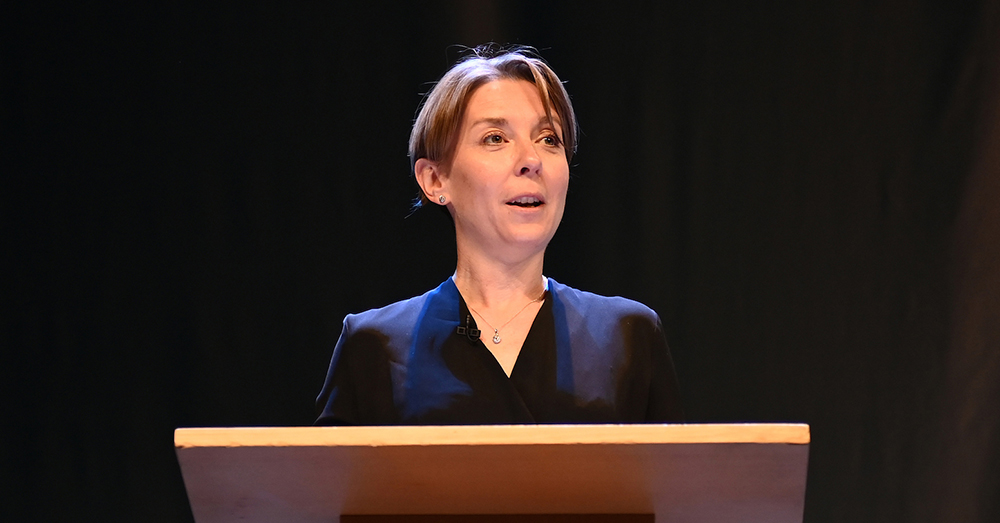 Corbin calls on news industry to end he-says/she-says journalism and focus on stories audiences can believe in
Liz Corbin, deputy media director and head of news at EBU closed News Xchange 2023 by calling for the news business to focus on what people do and not what they say.
"I think we can agree that we have not worked our entire careers, made personal sacrifices, to watch journalism slowly decline – weakened by our own inability to communicate to younger audiences or to report bravely from any of the frontlines of news.
"We are fighting for the future of journalism and therefore the future of democracy itself. No less. It's not just a job, it's a value, a way of life. And several people have said the journalists of the future will experience it very differently, as we have from the previous generations."
Citing two days of intense debate about the nature and responsibility of those charged with delivering news to the world, Corbin continued: "I would like to pose you a challenge: does journalism focus too much on what people say and too little on what they actually do? We obsess over political rhetoric – we lead our websites and news bulletins with who said what to who. I'm asking if you think the climate of this planet cares about what people SAY?? We have to get serious about this. Not just for the climate (as if that weren't a big enough reason) but because audiences are done with he said/she said journalism.
"Audiences are fast believing nobody at all, and when someone believes nothing at all, they will in fact believe anything. And then, as Matt Shea put it, what is the point of journalism if no one believes you? What happens when proven facts aren't enough? Sometimes you have to play the long game," she continued. "In Matt's case, maybe that long game paid off a little today when Andrew Tate was charged with serious offences. Keep going, keep investigating, keep your focus tight on your principles and values. And collaborate."
She called on public and private news providers to work together to seek more opportunities to collaborate towards this end.