With TikTok it is never easy. The booming app for the young generation that went through the roof in Germany mid-2019. Fast-paced videos challenged our way of storytelling. Vertical formats challenged our "traditional" video-formats.
And then there is the political dimension: right from the start the app faced scrutiny from Western authorities over concerns that China's government could use it to harvest people's data. In recent weeks, the company's CEO has been questioned by US congress and governments in the USA, Canada, the EU and UK have banned government employees from using the app on official devices.
However, with ARD's newsbrand "tagesschau" we decided to start an account in 2019 and ran, together with the "Washington Post", one of the two first accounts for news on TikTok worldwide. Now our account reaches nearly 1.5m subscribers, which makes it not only Germany's most successful news account, but top 5 for brand recognition on TikTok in Europe. Users worldwide spend 60 minutes of screen time a day on TikTok, which is twice as much as on Facebook.
So how do we deal with all the controversy around the platform as a news broadcaster? Should we just go on as if nothing happened and – when asked for an opinion – recommend others to launch on TikTok? Or should we delete our account immediately and stop featuring tagesschau-news on a platform surrounded by all these concerns?
Our answer is not black or white. It is the nuanced approach we've taken from the beginning. To understand, let's s travel back to 2019, when our social media and innovation-team first discussed Tik Tok.
We asked ourselves – just how does serious news fit on a third-party platform that started out as a lip sync app and is characterized by dance, music and comedy – pretty much the opposite of what you see on News sites? Not at all was the feedback we got, at first. " This is just a very bad joke," posted one user, at the launch of tagesschau on TikTok. But we carried on – because having a presence on TikTok was interesting for a number of reasons:
1. First mover advantage: In 2019, TikTok was the hot app – a blank sheet many did not dare to tackle. The tagesschau Innovation laboratory saw the opportunity to cover news in a completely new way. Gaining early experience with a new form of visual storytelling, vertical and extremely fast.
2. Reaching a new audience: There are many people on TikTok that newsrooms worldwide would like to reach more often. With our TikTok-clips, we reached out not only to young people – we also reached for people from different social backgrounds to our normal channels.
3. Providing reliable information: whenever a social platform gains relevance, it doesn't take long before people talking about politics and news. If this happens without a reliable source of news there is a potential for inaccurate information to fill the gap – with bad actors spreading misinformation and fake news. With the tagesschau we offered a reliable, cricital and easily understandable source of news on TikTok. And we approach criticism of Tik Tok itself head on. Allegations of censorship, political influence, illegal data transfer – we investigate them all – rigorously applying our news values to Tik Tok itself.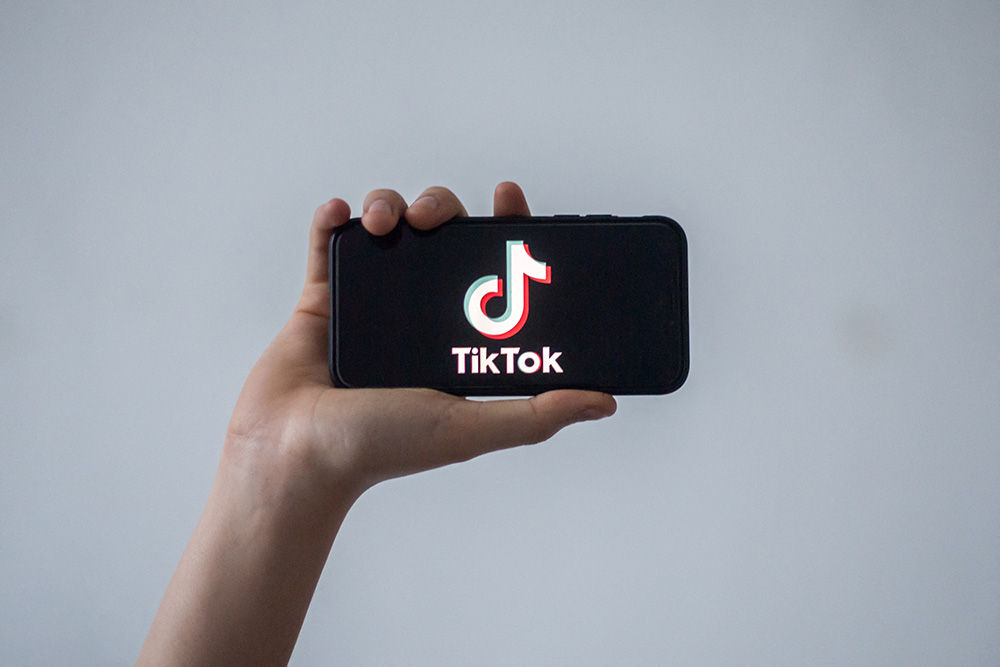 Taking all this into account, we created a brand fit for tagesschau on TikTok and launched"News + X" in November 2019.
The "News" section focuses on relevant information for the young TikTok communities. Presented by our young TikTok-anchors Anna, Antje and Felix. we focus on tackling and educating our subscribers on how best to use the platform.
The "+ X" builds our brand image. Here we combine behind-the-scenes access to tagesschau personalities with fun – like taking a teleprompter challenge with a famous news anchor. In short: we've created a modern, young news brand with a sense of humour.
We also encourage direct dialogue with our subscribers. In the comment sections and also in live streams, where we answer questions about our work or show how we gather information.
When it comes to disinformation, we act as fact checkers on the platform. Our users often draw our attention to fake news. We then start a verification process through our tagesschau verification unit. This happened most frequently during the corona pandemic, at the beginning of the Russian war against Ukraine and during the mass protests in Iran.
Politically, the discussion about a TikTok ban is picking up speed and the question "When are you going to delete your account on TikTok?" comes up frequently.
We have had a critical approach towards TikTok since the start: we are constantly monitoring how the algorithm works and the non-transparent metrics, that mean the reach of our videos can differ without apparent cause or we see the so-called shadow banning of certain videos and user comments.
Going forward, we will continue to be vigilant – keeping a close watch on international research, monitoring the overall content on the platform – and discussing how to proceed together with the other major public news broadcasters in Europe within the framework of the EBU.