Since its launch in 2017, Faktisk has been Norway's sole dedicated independent fact-checking organization, with a mission to test the public discourse in the country.
The initiative is unique. In the UK, imagine The Guardian, The Times, BBC, and ITV coming together to form a single fact-checking organization. This is what we've achieved in Norway. A consortium of the six largest and competing media organizations, NRK, TV 2, VG, Dagbladet, Amedia and Polaris Media, own and partly fund Faktisk.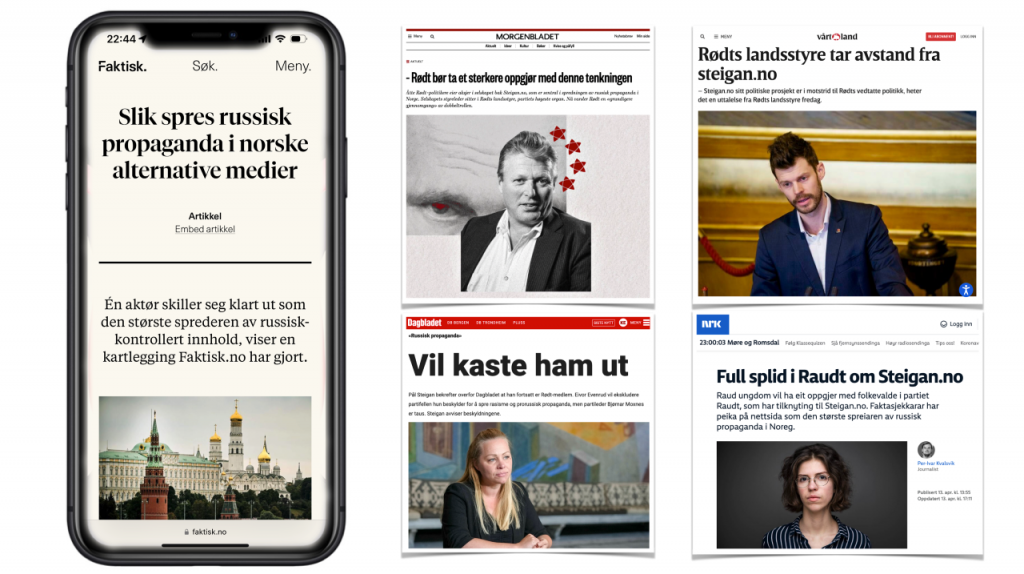 Faktisk is dedicated to uncovering and preventing the spread of disinformation and misinformation. Through knowledge-building and expertise exchange, Faktisk.no aspires to be an open laboratory to improve source awareness and media literacy in Norway. And to do this fast.
With viral hoaxes spreading rapidly, fact-checkers often struggle to counteract the misinformation within a short time frame through commercial routes. Recognizing this, Faktisk opted for a different approach, making all content available for free to anyone who could help spread the word.
Faktisk has a system of embed codes, allowing users to easily share content on various platforms. We have also partnered with the Norwegian News Agency (NTB), to automatically distributes our content through its newswire service.
The four founding news organizations—VG, Dagbladet, NRK, and TV 2—are the largest distributors of our content, reaching two thirds of the Norwegian population daily. Numerous local, regional, and national news sites, publishers, and bloggers also use our content, with the number increasing almost every month.
Several of these stories have led to important debates, such as their investigation into the spread of Russian propaganda in Norwegian social media, and ties to leading politicians and parties in parliament.
Even alternative news sites with skepticism towards mainstream media regularly share Faktisk's work, making it harder for their audience to dismiss the content as propaganda or fake news.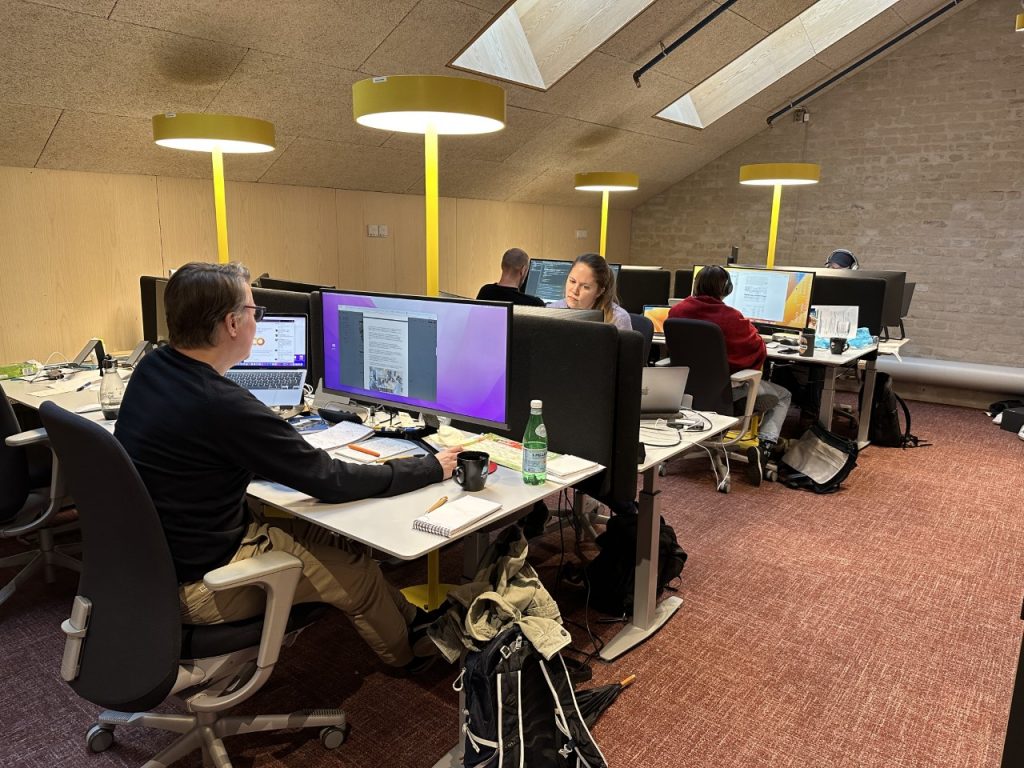 When we launched influential players in the Norwegian media industry predicted our imminent demise. Others couldn't understand the point of us. Fake news and disinformation weren't a problem in Norway, were they?
Just six years later, including four years with President Trump, three years of the pandemic, two years of the aftermath of the storming of the U.S. Capitol, and one year of war in Europe, the world has demonstrated how disinformation, fake news, and conspiracy theories threaten our society and democracy.
Faktisk, is still small but growing, with fifteen staff and three departments. In addition, we are spearheading a large Ukraine war verification project on behalf of the entire Norwegian media industry.
The need for accurate information became evident when Vladimir Putin launched an attack on Ukraine on February 24, 2022. With social media flooded with images, videos, and witness accounts, Norwegian newsrooms faced an urgent need to verify content to avoid publishing propaganda, lies, and fake news. Faktisk took the initiative to create a verification "hub" in partnership with major Norwegian media outlets.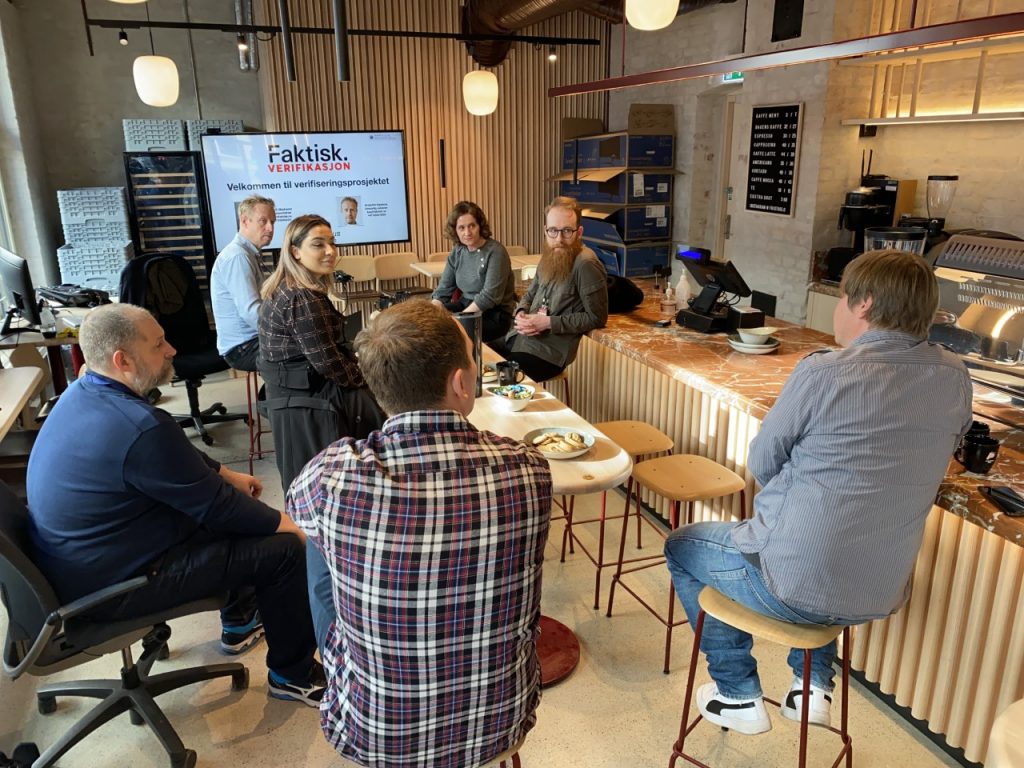 The project, dubbed Faktisk Verifiserbar (because it was set up in a closed bar), brings together 12 media houses and 32 reporters and researchers. This cross-collaboration model is unique, breaking down traditional editorial barriers during an ongoing news event.
This project delivers quality journalism to a large audience and has ensured the accuracy of Norwegian media's coverage of the war in Ukraine. The project has gained significant national and international attention as a prime example of Norwegian media's ability to collaborate to protect press freedom and democracy.
Going forward, our goal is to build on the values Faktisk is founded on – the broadest possible collaboration to combat disinformation and misinformation that threaten our societies and democracy. This is simply summed up in Faktisk's slogan: Friends shouldn't let friends believe in untruths.